Hopper scale ABS-XL
The ABS-XL hopper scale is designed for high flow weighing of dry commodities with good flowability such as cereals and fertilizers. It is particularly suitable for the loading-unloading station in grain elevators to manage the ship/train/truck in-bound and out-band.
The weigh cycle is managed by Precia Molen I 410 ABS instrumentation system, the hopper scale acts as a discontinuous totaliser with non-constant batch weighing. Its simple and yet solid design makes for easy installation and maintenance.
The ABS-XL hopper scale comprises two main parts:
A feed section which must be fitted under the product feed upper bin. This section is equipped with one, two or three feed gates depending on the model.
A weigh hopper supported by four load cells fitted on a rectangular frame. This metal frame is supported by the floor or the support frame.
The weigh hopper is equipped with one, two or three discharge gates depending on the model.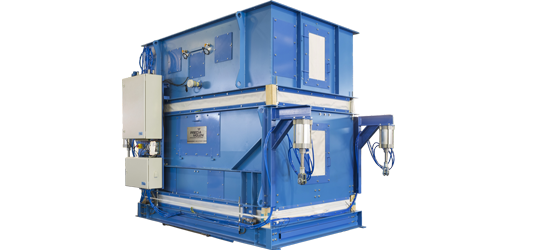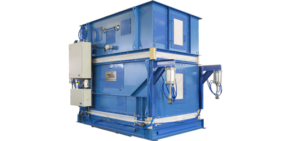 The quality of the construction of our hopper scales combined with the supply of electrical and mechanical components which comply with ISO standard guarantees that our units are:
robust
reliable
accurate
easy to maintain
General Characteristics
Specific weight of the products weighed: 0.30 – 0.90 t/m3.
Weighing accuracy: ± 0.1%.
Ex Models available
Available in painted steel, colour RAL 5012, total or partial Stainless Steel.
Option of a Self Calibration Monitoring System, which aims to constantly guarantee the accuracy of the scale. Also offers a redunacy system should a loadcell fail, avoiding costly down time.
Download the documentation to the right to see different models that are available. Any questions please contact our friendly team, we are always happy to help.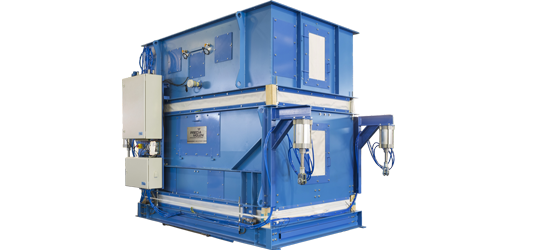 Dedicated Software
Indicator I 410 ABS Hopper scale software
The system equipped with I 410 ABS hopper scale software is the measuring and control device for PRECIA MOLEN hopper scales. The I 410 ABS system may also replace different indicators on existing installations. The I 410 ABS software may control any type of hopper scale: – hybrid with levers or 100% electronic, – with one or several filling gates.
I 410 GFS Software for gravimetric filling scale
The I 410 GFS software is the measuring and slaving device developed by PRECIA MOLEN for controlling the single or dual weigh hopper gravimetric filling scale. Our electronic system equipped with I 410 GSF software can replace any type of existing built-in indicator in the semi-automatic or automatic bagging lines. In fact, this software allows measuring the weight and controlling one to two net or gross weighers-weighing bagging scales.
The other products in the range